About Krueger Brothers Construction in Colorado Springs
Krueger Brothers Construction is a full service roofing contractor serving throughout Greater Colorado Springs. Whether you need roof repair, roof replacement, new roof installation, or any other roofing service, we have an expert solution. We provide a wide variety of roofing materials for both residential and commercial customers.
When you work with us, you can count on a complete solution for your exterior improvement needs. We will work with you every step of the way to ensure that all your needs are met and you are complete satisfied. Whether you need simple repairs or want to completely customize the look of your home, we can help!
Our Values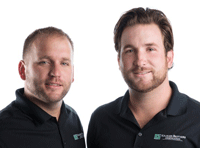 The Krueger Brothers
At Krueger Brothers Construction, we place our customers ahead of everything else, and we value the relationships we build with you. That's why we make the effort to invite our clients to events like BBQs, get to know them, and build a positive relationship.
We're a family oriented company, and we know how much quality and communication count. No other roofing contractor will go the extra mile the way we will, and that's how we've become a respected name in Colorado.
Community Involvement
We are proud to be a part of our community, which is why we enjoy the opportunity to give back. We are lucky to have been able to work with USA Cares, a military non-profit that provides assistance to veterans in need and their families. We are also proud to have worked with charitable organizations such as West Side Cares and sponsored benefit 5ks. We look forward to future opportunities to give back.